Holidaying in the UK is becoming ever more popular and with so many beautiful locations still yet to be championed and explored right on our doorstep, it's time to consider a staycation. What better way to explore the beautiful coasts and countryside of the UK than to get lost in the wonder of driving off the beaten track and discovering some of the amazing landscapes and adventures right here in the UK.
A staycation is simply a holiday in your own country. This may be close to home or travelling to a different corner of the country to explore new lands and adventures. Staycations allow you the freedom of being able to travel wherever you want hassle-free. From the picturesque peaks and waters of the lake district to the white beaches and sunny surf of Cornwall, the possibilities are endless with a staycation and all within driving distance of your own home!
Now staying in a hotel or b&b might be fun, equally so might camping. However, there is nothing better than taking our fully equipped camper van with you. Travel in complete style and comfort with the very best of both worlds. Better than glamping with much more freedom than a hotel can offer, hiring our camper van means you can easily explore the roads less travelled and tailor your adventure to you.
Much more than just a road trip, our camper van enhances your whole adventure, offering a warm shelter from the cold weather of the peak district to a place to keep your towel dry at the beach! Our camper van isn't just any van though, we have professionally designed it using the very best components and features.
Everything AND The Kitchen Sink
Forget packing the tent pegs! Our camper van is fully equipped with enough room to sleep up to 4 people as well as a fully equipped kitchen, complete with a sink, fridge, water tank, gas hob and much more. So the breakfast can be cooking right after that morning surf!
The exterior of our camper van is equipped with high-quality Thule roof rails with wing bars so you can carry your surfboards straight to the beach. With this amazing van, you'll be adventuring in complete luxury and style wherever that may take you.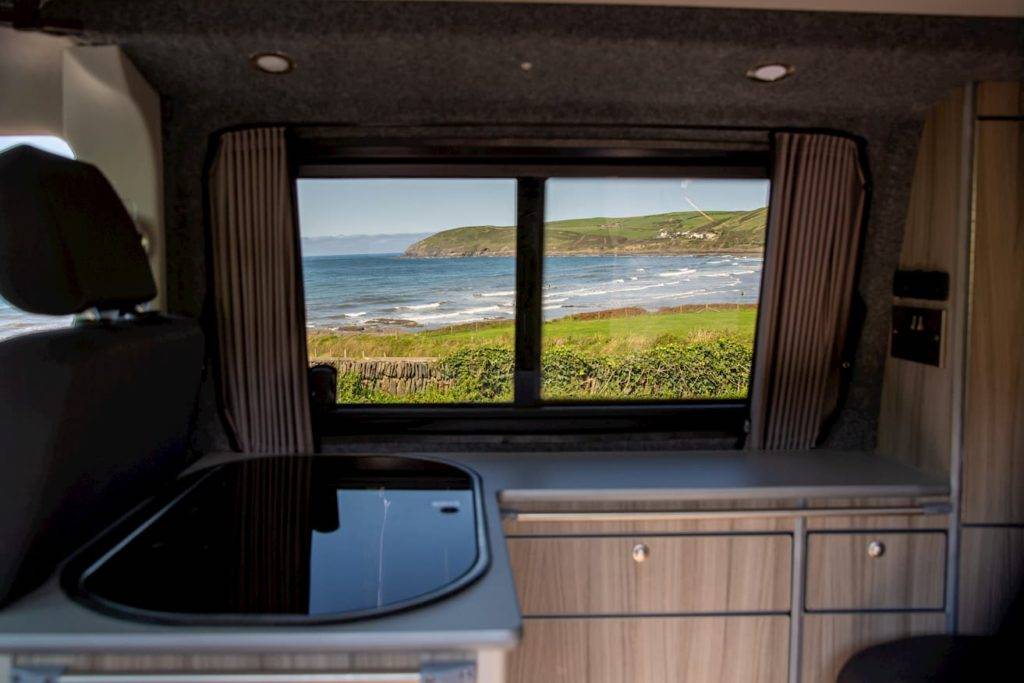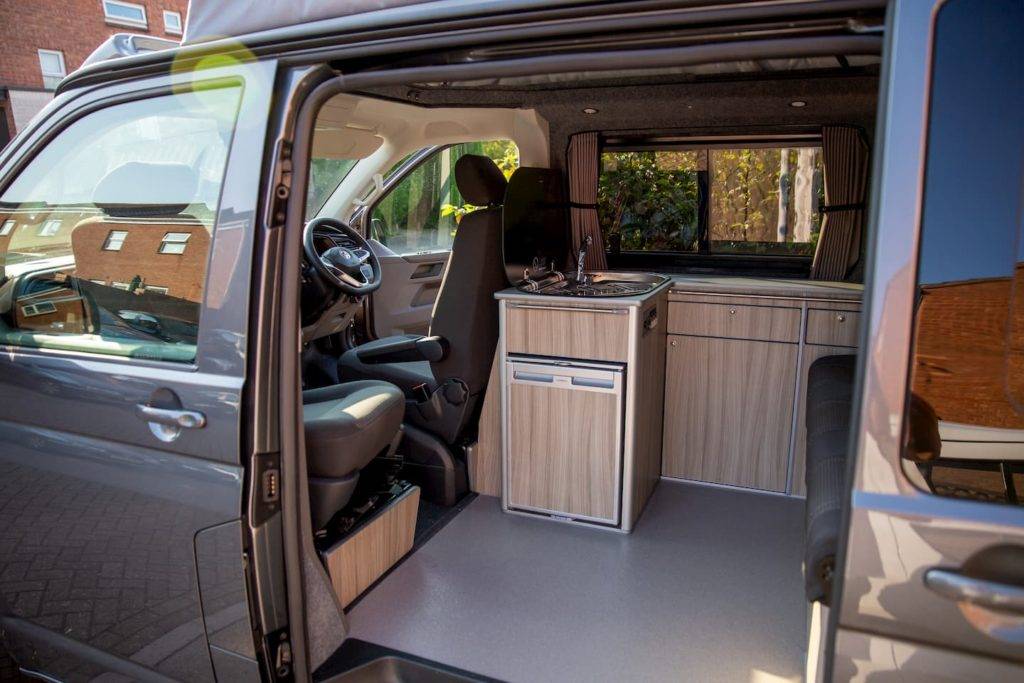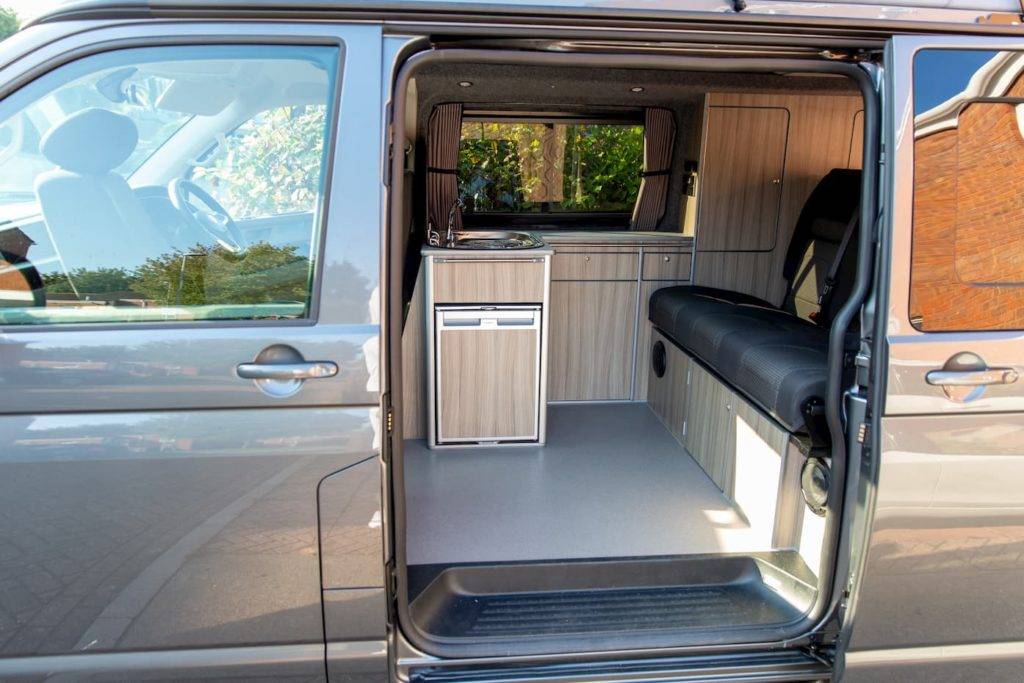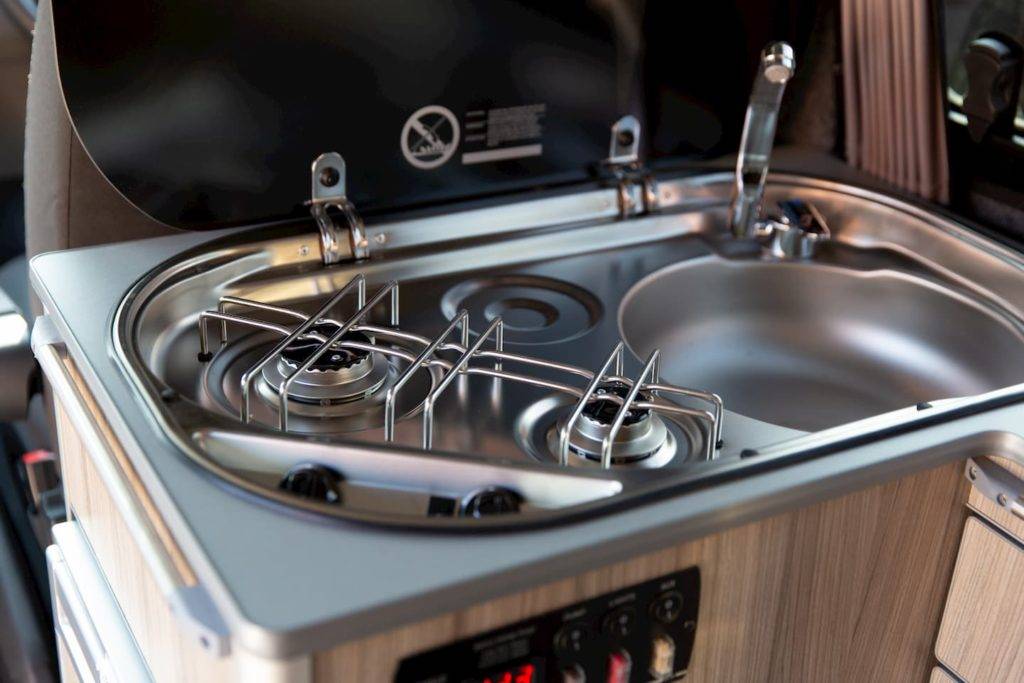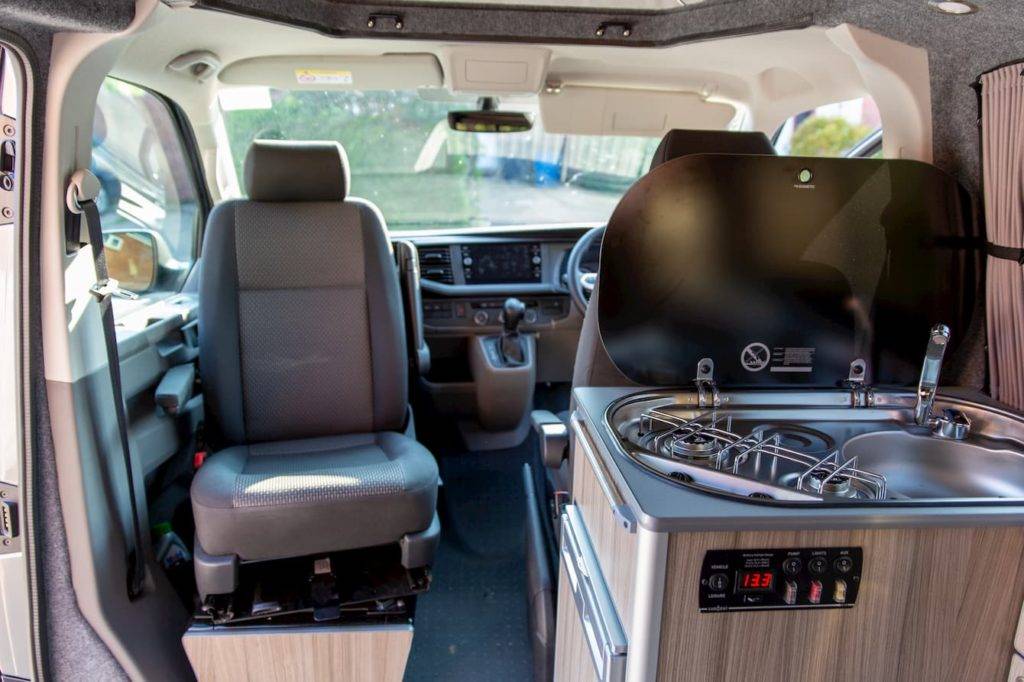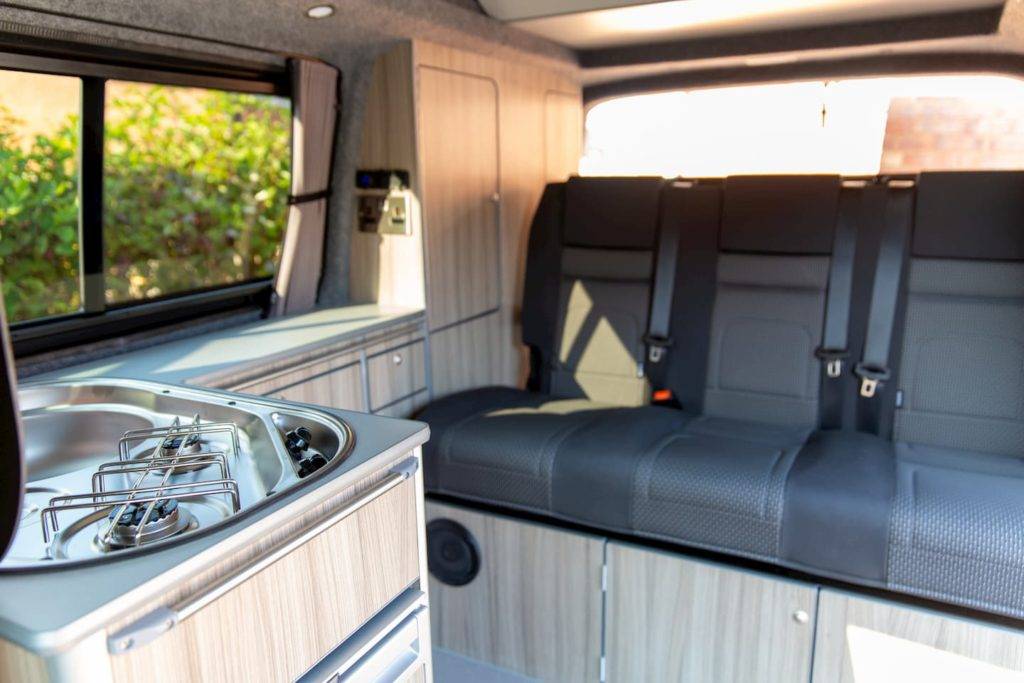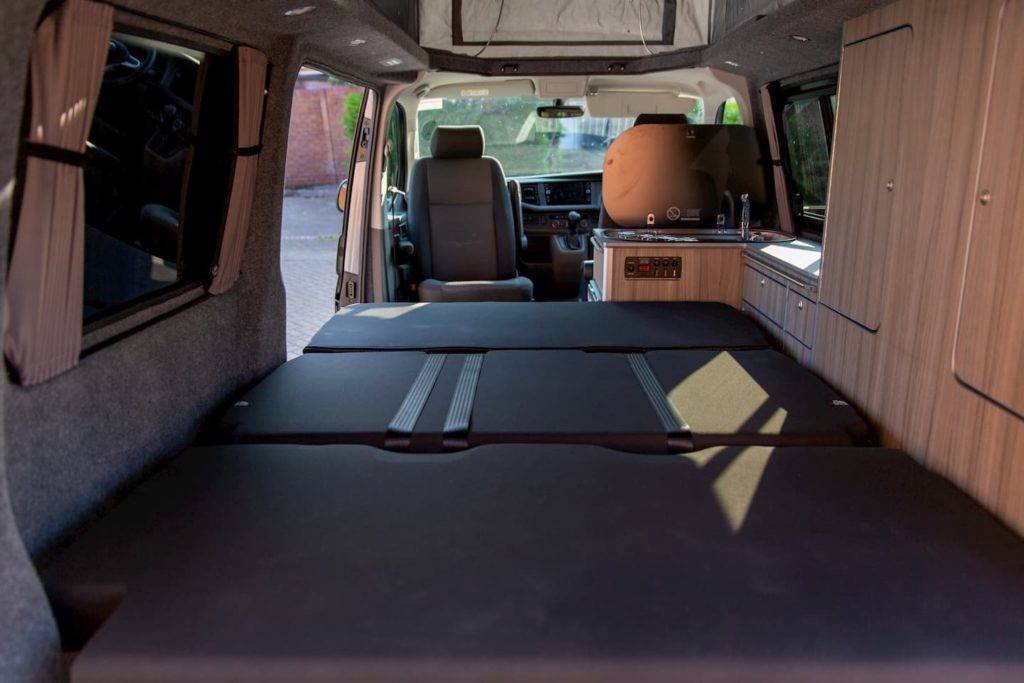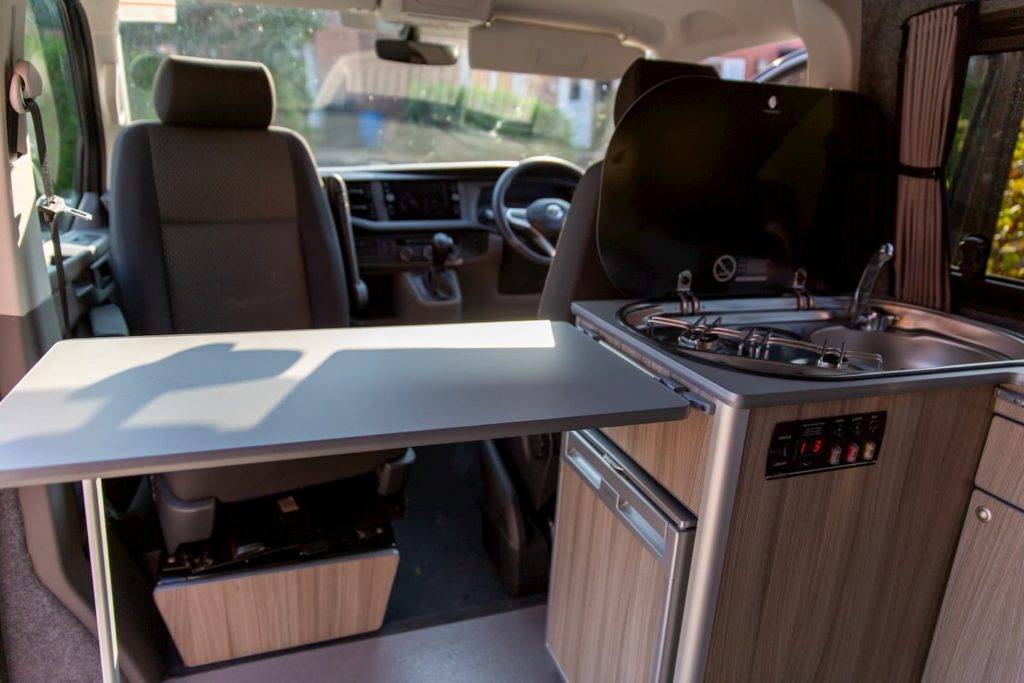 Prepare For Any Adventure With Optional Extras
We have loaded this camper van with as many features as possible and we understand that sometimes tailoring your staycation even further is necessary which is why we offer a wide range of additional extras to enhance your adventure even more.
These extras include anything from a camping tv to a high quality awning and even a tent (maybe pack those tent pegs after all). If you enjoy a sing along in the car too, we offer a travel guitar too!
We know how important it is to bring the whole family on your staycation too which is why we offer child cab bunks, camp beds and a pet charge so you can bring your fur babies along too.
You can add the following extras onto your booking upon pick up.
Additional Driver
£8.00 per day
Child Cab Bunk (up to 5 years)
£15.00
Cycle Rack (2 bikes)
£25.00
Cycle Rack (4 bikes)
£8.00 per day
European Travel insurance
£15.00 per day
Quick Pitch 2 Man Tent
£15.00
Fancy taking your journey further afield? We offer European travel insurance too so you can venture to our local European neighbours. Our campervan really is the perfect way to spend your staycation. You'll never want to leave once you enjoy the freedom of discovering new and beautiful UK locations in this fantastic VW transporter camper van.
The UK is filled with some absolutely astonishing locations, far and wide just waiting to be visited and explored. We have put together some of the most popular places to visit for inspiration for your staycation but remember with our camper van, you can drive anywhere and find all those hidden gems!
As we are based in the South West we are slightly biased towards some of the golden beaches and wonderful locations that Devon & Cornwall have to offer. With that being said, Cornwall has consistently been rated one of the best staycation locations in the UK for many years and for good reason!
Not only does the South West attract a large surfing community and beach lovers alike in areas such as Barnstaple & Newquay, Devon & Cornwall is also filled with small quaint fishing villages such as Brixham & Fowey with picturesque landscapes and water sports opportunities.
As well as the amazing coastline there is also a wealth of beautiful camping spots and adventures to discover on the several moorlands in Devon & Cornwall. From discovering the folk stories of Dartmoor & Bodmin Moor to the stunning landscapes of Exmoor with the highest coastline in England.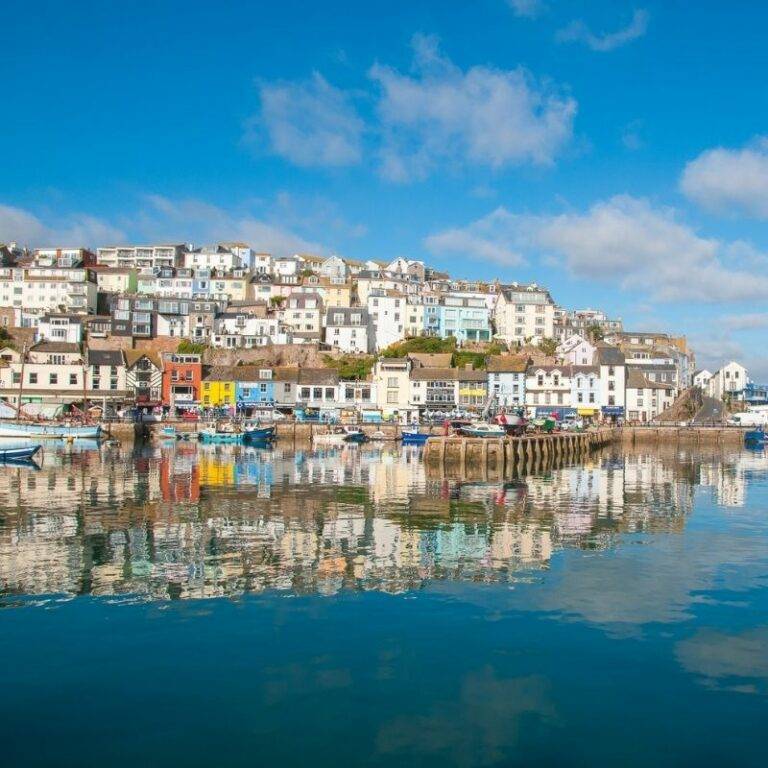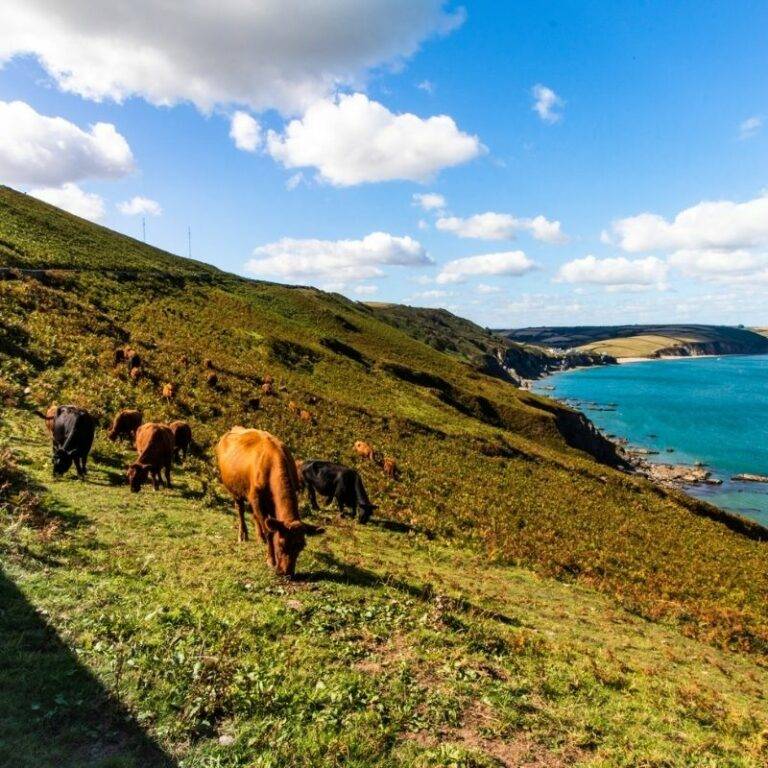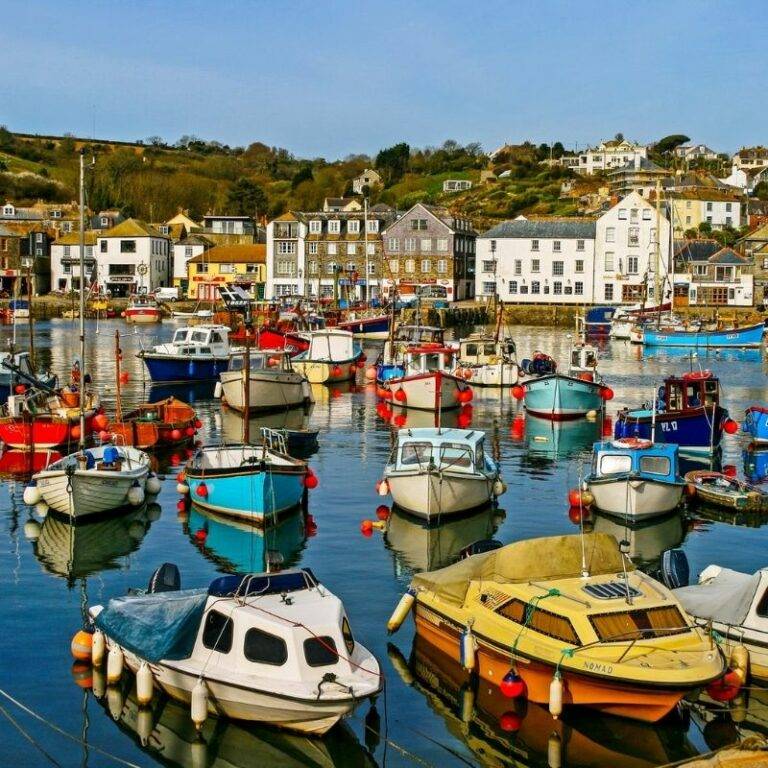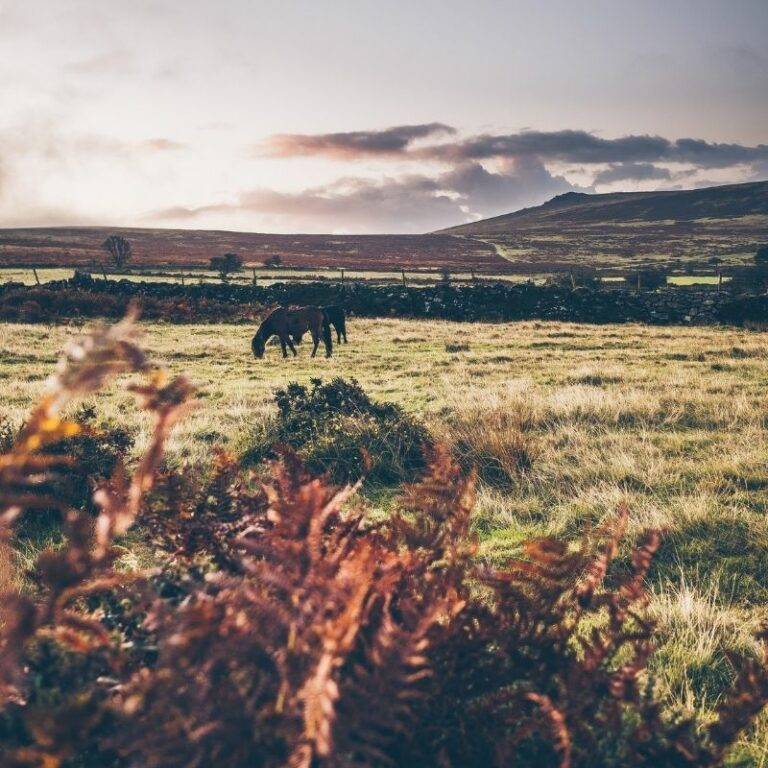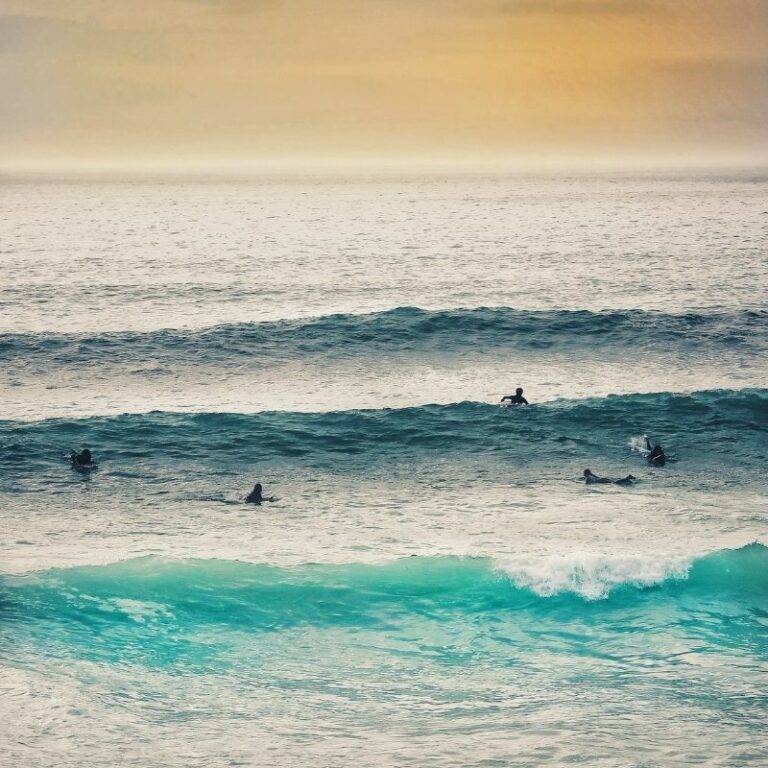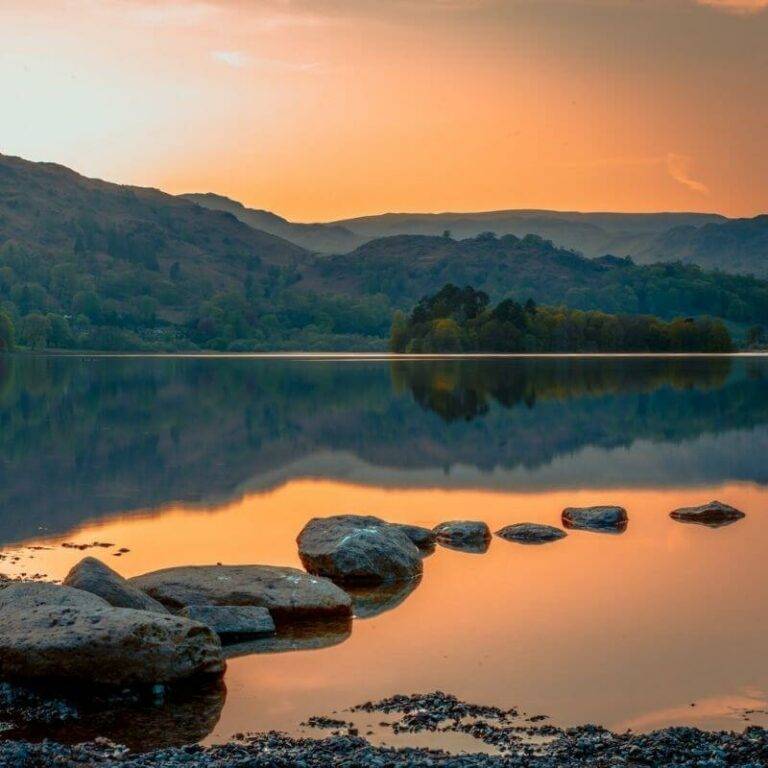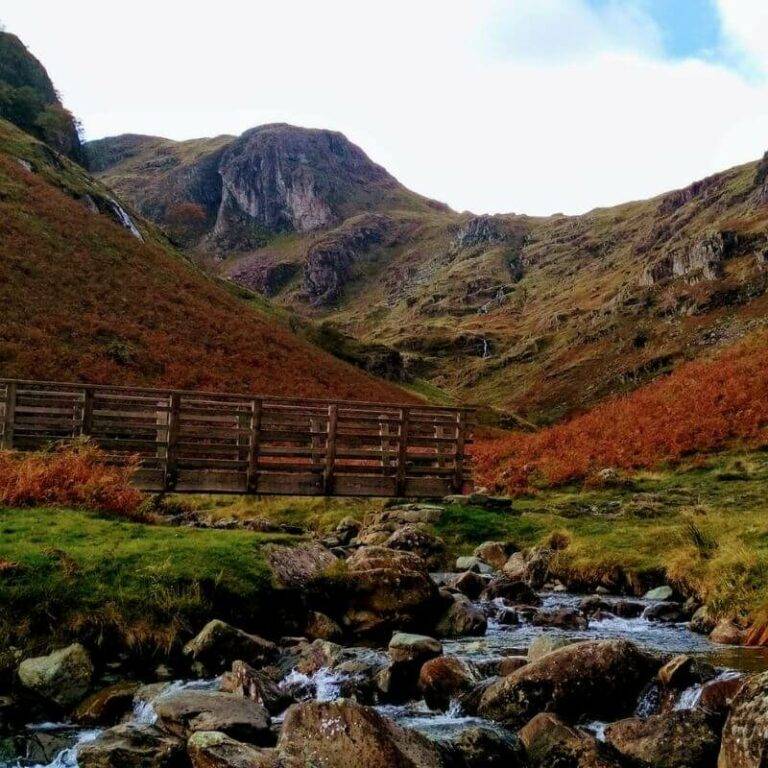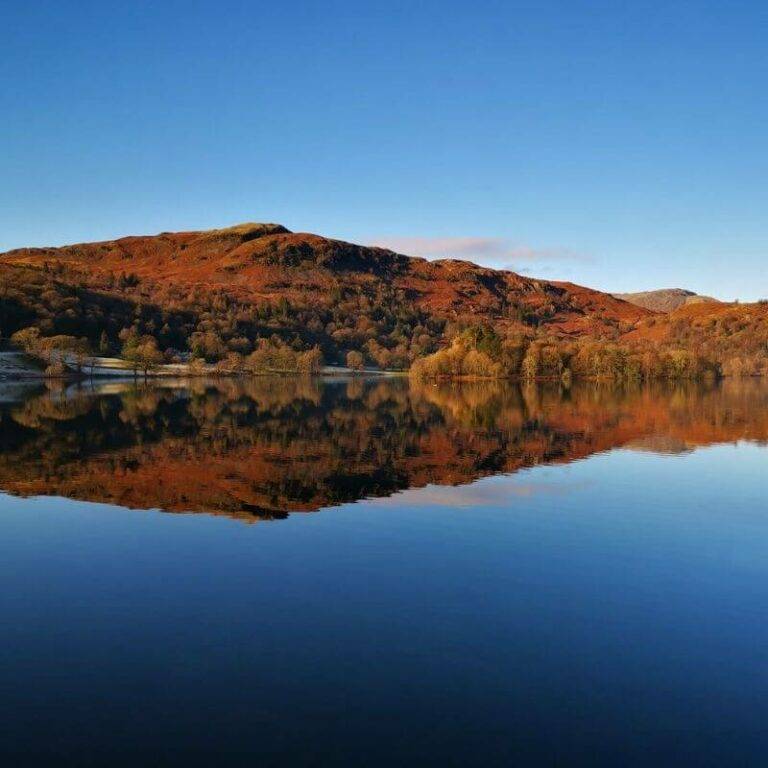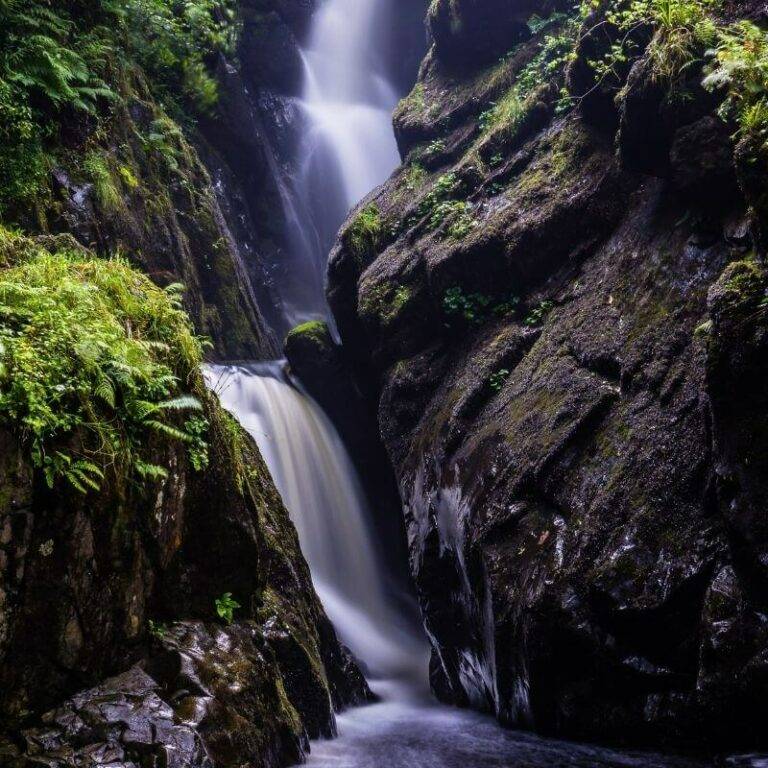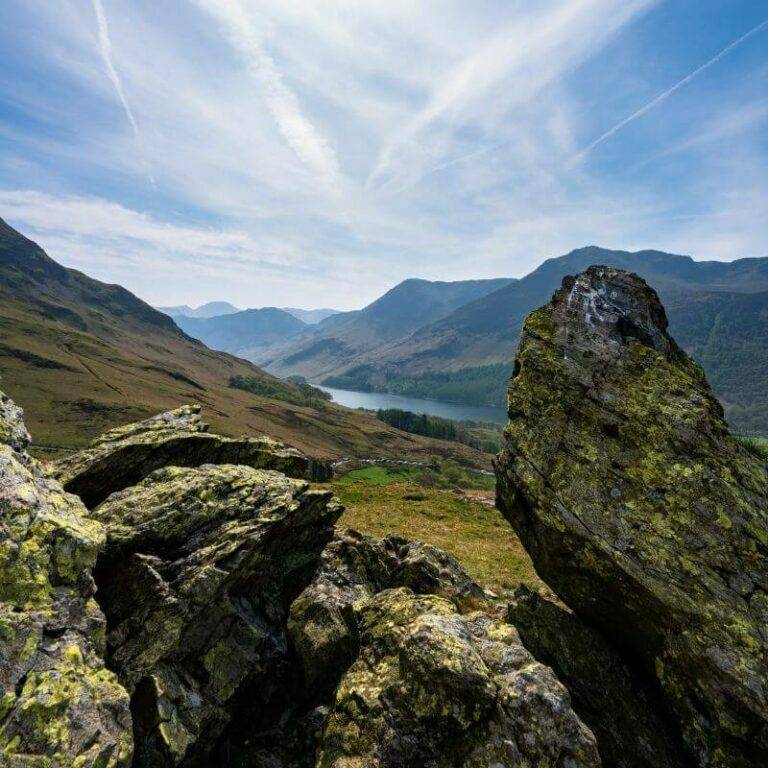 We have to add the lake district to this list! Hands down one of the most epic and utterly stunning locations in the UK, your adventures here would only ever be enhanced by taking our fully equipped camper van with you. From climbing mountains to taking a dip in one of the many glorious lakes, having our van to warm up in afterwards and stargaze from in the evenings just makes this place just that much better.
With accommodation limited, taking a camper van gives you the ability to explore much more of the area at your leisure.
If beaches or mountain ranges aren't your thing then the ideal staycation spot for you might be the cotswolds. Miles of charming countryside and quaint villages brimming with character make this location a quintessential staycation spot.
From Bourton-on-the-water to Kelmscott manor, there are plenty of places to visit and get your fix of peace and quiet surrounded by nature. One of the many benefits of exploring the Cotswolds is the various farms and shops that sell delicacies such as cheeses made on site.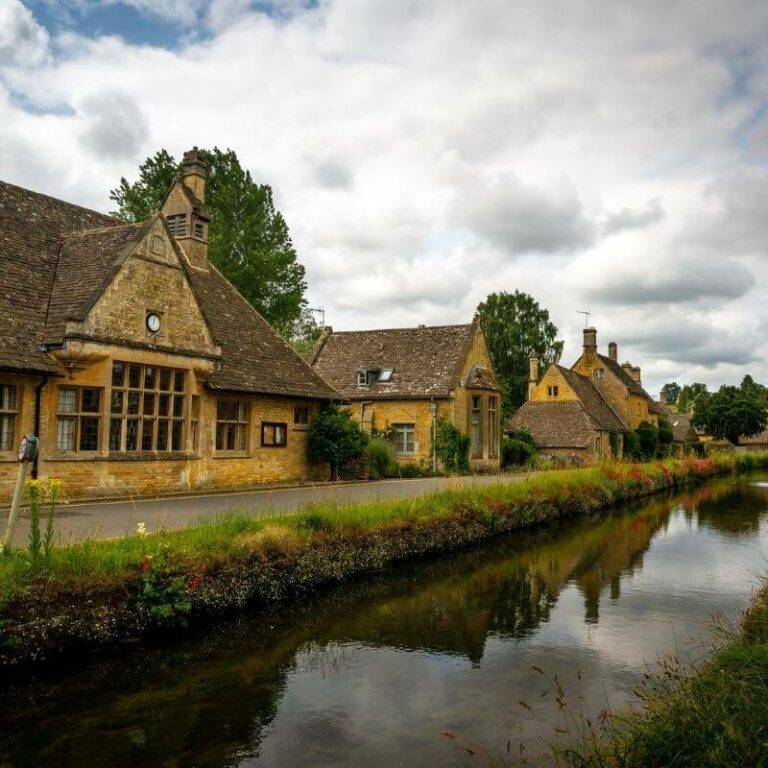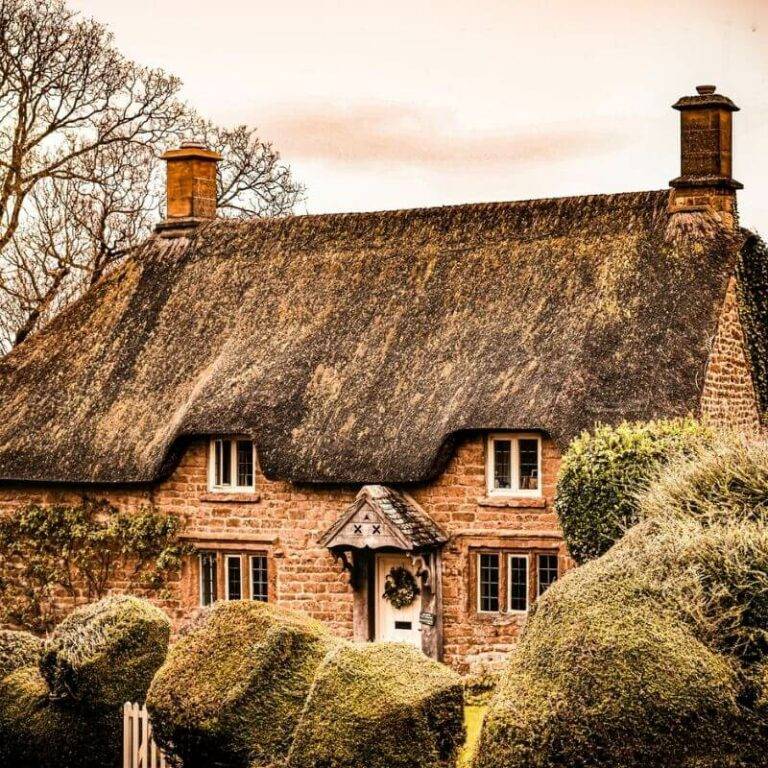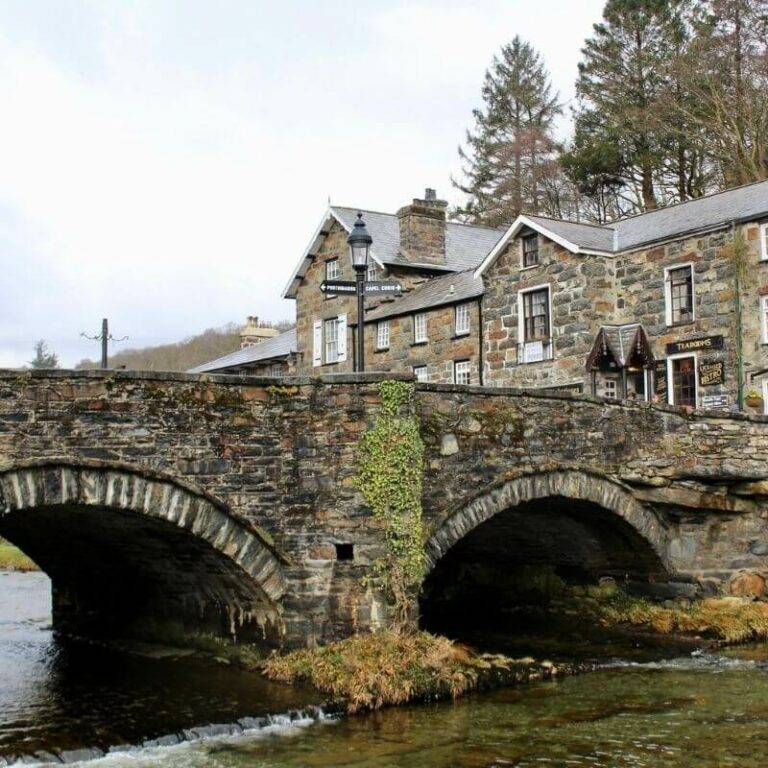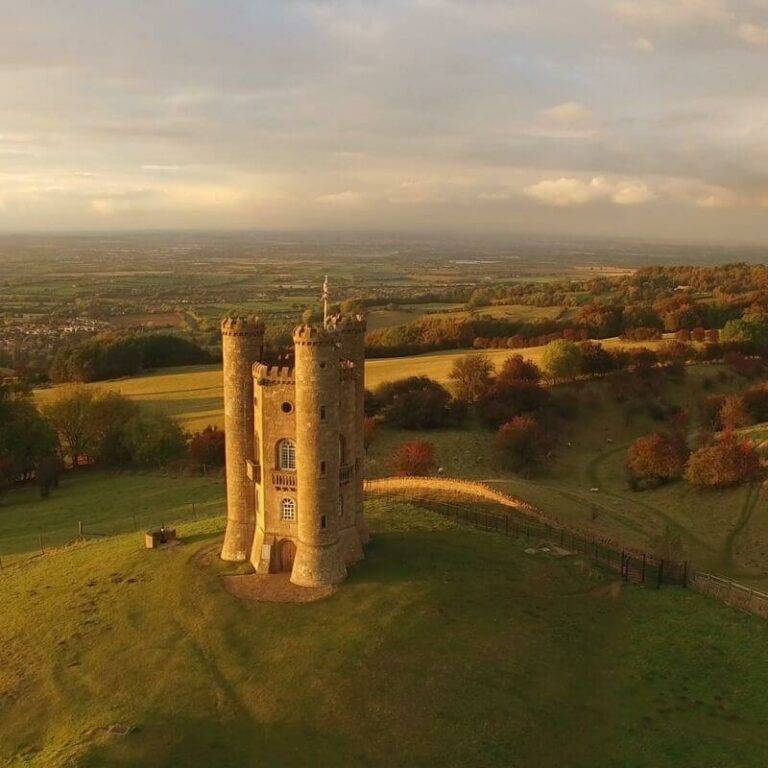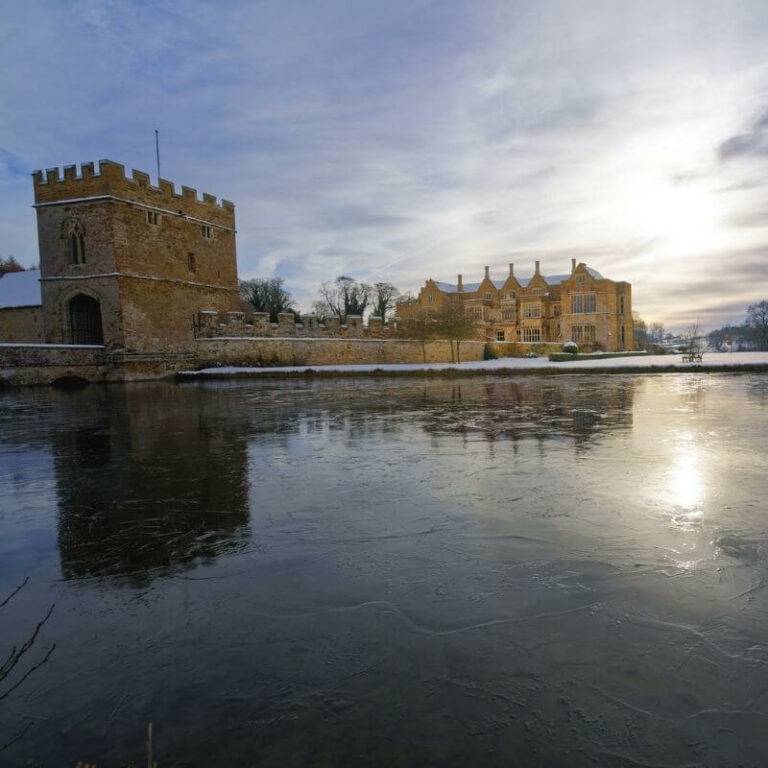 Take A Closer look at our Camper Van For Hire
We hope we've inspired you to look closer to your home for your next holiday. If you're considering adventuring around the UK then discover more about our fully equipped camper van here.
Our team will be able to advise you on the best options and availability, simply book online or contact us on 01392 249250 to inquire.